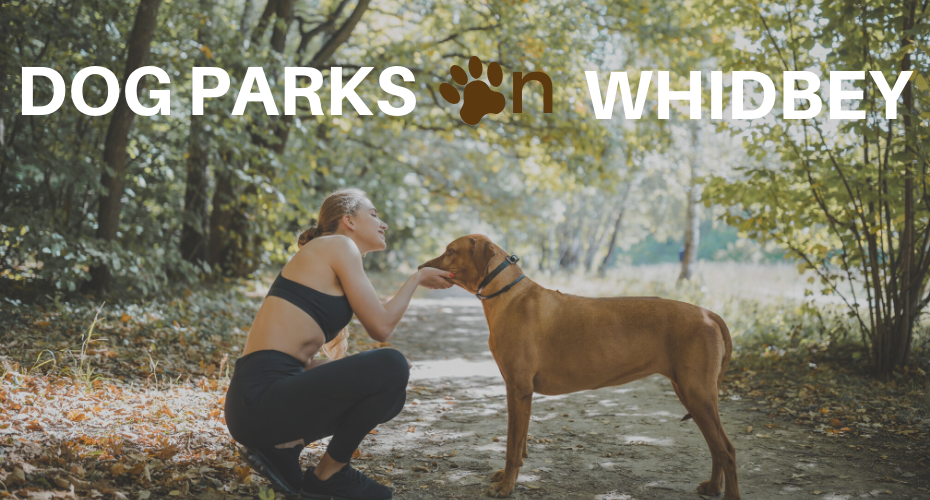 If you have been out exploring Whidbey recently, you might have noticed an abundance of furry four-legged creatures. It's not much of a secret that Whidbey Islanders LOVE their dogs. As self-proclaimed "outdoorsy" people say, they are the perfect pet to have with you when hiking trails, swimming at the beach, and exploring places like the abandoned military installments of Fort Casey and Fort Ebey. 
Although exploring all the crevices of Whidbey is amazing, dog owners know there is something special about enjoying time off-leash with their furry friends. Luckily, Whidbey has some INCREDIBLE off-leash dog parks scattered throughout the island. We have listed our favorites below! 
Although this is one of the smaller parks on Whidbey, Clover Valley is well-loved and frequented by dog owners in Oak Harbor. The fully fenced-in park provides owners the opportunity to socialize their dog in a safe environment while they build friendships with other owners in the area.
View this post on Instagram
Patmore Pit is the largest off-leash dog park on Whidbey. This fully fenced 15 acres of mixed terrain allows owners and their pups the opportunity to enjoy themselves for hours.  The park has 3 meadow areas, 2 wooded areas, an agility course, and a smaller area for more timid dogs.
View this post on Instagram
Anyone who has ever visited Greenbank Farm knows that the surrounding area is incredibly beautiful with views of our gorgeous waters on either side and an abundance of trails. But did you know there was an off-leash area? Just north of the farm, you will notice they sectioned out parcels of land for low-impact recreation including off-leash play! It's a wonderful place to explore if you get the chance.
View this post on Instagram
Have a water dog that LOVES to splash in the sea? Then you will love taking them to Double Bluff Beach. This location offers pets and owners a two-mile-long stretch of beach to play on without the nuisance of leashes to restrict your dog's enjoyment.
View this post on Instagram
This fully fenced 13- acre park offers dog owners peace of mind when allowing their dog to explore the various trails and meadows. Central gathering areas provide owners the ability to socialize with others while their dogs play.
View this post on Instagram
MAP
:
Geocaching on Whidbey Island
Why is Whidbey Island the Perfect Place?
It is no secret that Whidbey Island is an astonishingly beautiful place. It's the kind of atmosphere that draws you outside to enjoy the many state parks and breathtaking beaches. Countless trails dot the landscape all across the island. These trails and parks are what make Whidbey Island the perfect place for one very special activity: geocaching.
View this post on Instagram
What is Geocaching?
Geocaching is a hobby that has been around for almost twenty years, following the significant improvements on the global positioning system. The concept of the game is simple; go to a location indicated on your app/GPS, find the hidden treasure, re-hide and repeat. Geocaching's simple, yet successful, concept attracts millions from across the globe to get outside and participate. On Whidbey Island alone there are over 300 caches!
View this post on Instagram
From the Geocachers:
We asked a few Geocachers about the draw to the hobby and they gave us a wealth of knowledge.
Sandra, a long term Geocacher, expressed "so many activities today [are] related to being indoors and sedentary in nature," but she believes breaking that trend is what brings people to the hobby.
"Geocaching [is] directly related to being outside, the benefits are exercising your brain and your body! I've also been introduced to wonderful like-minded people who enjoy adventures."
Bill, a fellow Geocacher, echoes every word of Sandra's beliefs in the benefits of Geocaching. Asked why he started he simply said, "it was a way to get out!" As a retired man Bill is grateful to have geocaching for a hobby. Its something that keeps him active, helps him meet new people and discover new places.
So how easy is it to get into Geocaching?
Step 1: Download the App
This is the easiest part! Both iTunes and Google Play offer Geocaching as a phone app. All you need to do is search for it and download.
Step 2: Set Up a Profile
Setting up a profile allows you to save those caches you have already found and will start to develop statistics after you've been participating for a while.
Step 3: Start Finding Caches!
The app will immediately give you directions to the caches nearest you. You will follow it to the location and after that you are mostly left to find the treasure.
We Gave it a Try:
We decided to give it a try ourselves and it was great! We discovered there was a geocache right next to our Coupeville office. When we got a little lost and confused, we found out there was a helpful hint to guide the way. After a little snooping we found a tiny pill box with the visitor log!
Overall it was a pretty great experience and we can't believe there are SO MANY more caches to find and places to discover on Whidbey Island! Sandra stated it best, "Whidbey Island is a magical place to live and geocache in… I loved discovering the "Mother of All Erratics" in the Saratoga Woods near Langley, (as well as) new trails and Dugualla State Park on North Whidbey, and secret places in Deception Pass State Park. We have lived on Whidbey almost 38 years and all of those places and more were discovered through geocaching!"
Go get out there and explore!
You Might Also Like:
Best Places to Watch the Sunset
Since it is February and love is in the air we would like to acknowledge that there are few things as romantic as the setting sun. As the business of the day dwindles down and the colors in the sky change, it paints the perfect scene to forget all your worries and appreciate the one you're with.
You don't have to own waterfront property to enjoy the splendor of Whidbey Island. Jump in the car and within a few minutes you could be sighing with wonder as you watch mother nature work her magic. We've decided to help you and your loved one find your perfect spot for a romantic night by compiling a list of the best places to watch the sunset on Whidbey Island. We hope these dreamy locations help to ignite passion that's as deep as the sunset colors in the sky.
Ebey's Landing Bluff Trail – Ebey's Landing Rd, Coupeville, WA 98239
Situated right between the sweeping views of the valley fields and the expansive Puget Sound with the Olympic range visible in the distance; Ebey's landing is easily one of the most breathtaking views on the island. When the sun begins to drop down across the sound it will be a hard call on you'll be torn between watching the sky change its hue or viewing the night fall on the sleepy valley below. Both are good options.
Libbey Beach Park – 2750 W Libbey Rd, Coupeville, WA 98239
Sometimes the hardest part about watching the sunset is finding a place to sit and cuddle up. That is no issue at Libbey Beach! All along the rocky beach you will find a log wall with a flat top. A perfect place to perch for the setting sun.
West Beach County Park – 2407 W Beach Rd, Oak Harbor, WA 98277
Unfortunately, Whidbey isn't always the warmest this time of year. For those of us who still want to see the beauty of the sky changing into night, West Beach County Park is a great option! This little park is located on the North end of West Beach Rd and has a wonderful little lot where you can simply put your car in park and watch the sun fade from the comfort of your vehicle.
Fort Casey – 1280 Engle Rd, Coupeville, WA 98239
Watching the sunset behind this historic army fort is a great way to end any adventurous date. Before the dark overtakes it, the both of you might want to take some time to get lost within the fort's empty corridors. When you're ready, simply climb up to the top of the concrete fortress and watch the sun inch it's way below the horizon.
Joseph Whidbey State Park – Crosby Rd & West Beach Rd, Oak Harbor, WA 98277
Cuddled up on the lone westward facing bench of Joseph Whidbey State park is possibly the most romantic place to be as the sun fades away at the end of the day. Removed from the rest of the park's picnic tables, the solo bench towards the edge of the hill and above the community BBQ shelter provides the perfect place to look out over the stunning view Strait of Juan de Fuca. Void of visual obstacles, you and the one you love will fully be able to experience the sky dance through the stages of the setting sun.
Deception Pass – 41229 WA-20, Oak Harbor, WA 98277
Perhaps sitting on a bench just isn't your style and you want something a little more exciting and dynamic. Deception Pass bridge provides the perfect experience for couples wanting a little more adventure in their sunset experience. Sunsets at the bridge provide a unique and breathtaking experience from every location. You and your significant other can enjoy the rush of cars going by as you walk across the historic bridge and see the lights from the sky dance across the flowing water below. Or you can find your way below and see the patterns the bridge's shadows make across the trees and beaches.
You Might Also Like: 
What's Your Winter Style?
It's official. The clock has struck twelve and the new year has begun; bringing with it a time of resolutions or rest.
For many, January is the restart button for their workout routines. With the holidays passed they can finally buckle down and bust out the dumbbells again. For others, the winter winds make that idea unimaginable. They would far rather grab their favorite warm drink, a comfy blanket, and cozy up on the couch with the ones they love.
So, which is your winter style? Or are you both?!
For the Workout Warrior
January brings new inspiration to the workout warrior. With a vision of the new year in mind they are dedicated to bringing back that bikini body or conquering some challenging goals. Unfortunately, winter weather doesn't always make outside exercise possible. Below is a list of local gyms where you can stay fit!
Thrive Fitness – 32650 WA-20 Bldg D, Oak Harbor
North End Fitness – 2800 Goldie Rd #102, Oak Harbor
www.northendfitnesscenter.com/
Crossfit – 720 SE Pioneer Way, Oak Harbor
Unsize Me – 670 SE Pioneer Way #101, Oak Harbor
Hoping to complete your workout at home?
Check out these 15 Best Apps to Help You Get Fit: https://www.menshealth.com/technology-gear/g23007883/best-fitness-apps/
For the Cozy Cuddler
If the whole workout routine isn't for you, you probably just need a little more Hygge in your life. Hygge, pronounced "hue-guh," is a Danish word loosely translated to fun, cozy, comfort, and happy. It's more than a word though; it's a concept and a lifestyle. It's to live in comfort and contentment with the things and people who make you happy. Below are some ways you can bring Hygge into your home.
Want to learn more about Hygge?
Read The Little Book of Hygge: https://www.amazon.com/Little-Book-Hygge-Danish-Secrets/dp/0062658808/ref=sr_1_2?ie=UTF8&qid=1543349186&sr=8-2&keywords=hygge
You Might Also Like: